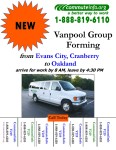 EvansCityCommute.pdf
If you know anyone currently or planning to commute to Oakland, please print out the attached flyer and/or pass along the info below.
CommuteInfo Wants You to be part of a New Vanpool from Evans City Area to Oakland 
A new vanpool group is trying to form from Evans City/Cranberry to Oakland. 
What you need to know:
Someone already has volunteered to take on the role of Coordinator
At least 7 additional people need to say they want to be part of this group 
At least 2 people would have to be willing to be drivers, others to help with data collection, or taking the vehicle in for service
The group would arrive to Oakland for an 8 AM start time, and leave at 4:30 PM.
Exact pick-up locations would be decided by the group
The estimated cost would be about $100 per person per month (assuming 8 riders – the cost would go down if there were more riders). This cost includes the vehicle, the maintenance, driver checks, insurance and parking (donated by the University of Pittsburgh). 
From the time of the group's commitment, it usually takes 4 weeks to get started.