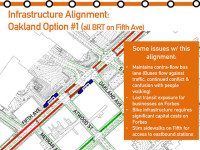 BRTMtgs201703.pdf
The Bus Rapid Transit project is intended to better connect communities in the Downtown-Oakland-East End corridor, and connect residents to job centers, educational opportunities, medical services and cultural attractions. 
The BRT also has the potential to unlock development and contribute to neighborhood growth, increase transit ridership and enhance the environment. 
The next BRT presentation will be Friday, March 31 at 8am at the University of Pittsburgh, William Pitt Union, 3959 Fifth Ave, Room 540. 
Check out the attached flyer for more info on other upcoming public meetings on BRT.