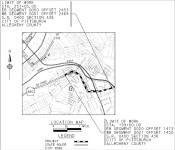 The Pennsylvania Department of Transportation, Engineering District 11-0, invites the public to attend a public display of plan for the reconstruction of SR 0400, Section A38, Baum Boulevard between Findland Street and Morewood Avenue.
The project, located in the City of Pittsburgh, Allgeheny County, PA includes full depth reconstruction from the Eastbound off-ramp to Bloomfield Bridge to the Baum Avenue Bridge over the Port Authority of Allegheny County Busway, reconstruction of the bridge deck and mill and overlay of Baum Boulevard from the bridge to Morewood Avenue. It also includes reconstruction of ADA sidewalk ramps and traffic signal upgrades within the project limits and reconstruction of the pavement of the underpass ramp to the Bloomfield Bridge.
The purpose of the public meeting is to present the construction schedule and traffic patterns during construction.
Tuesday, June 23, 2015, 7-9pm at 
Courtyard Marriott, 5308 Liberty Avenue, Pittsburgh, PA 15224
A brief presentation will be given followed by an open house format. PennDOT and their representatives will be available for discussion and to answer questions. Everyone who is interested in the project is invited to attend anytime during the above meeting hours.