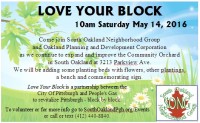 LYB_flyer_201605v3.pdf
There have been a few extra challenges getting things ready for implementing our Love Your Block Day for the South Oakland Community Orchard, so we are going with our backup date of Saturday 5/14 starting at 10am. We hope to see you there.
Click here to check out the information page and please contact us if you think you might come so we know how much help we can expect.  Thanks!
Also, mark your calendar for South Oakland Community Day on Saturday August 27.