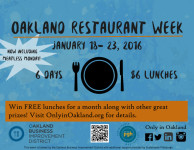 Spend Smart while Eating Great!
A record of 22 restaurants have teamed up to provide $6 lunches for six days, allowing you to save on lunch without compromising taste. Take advantage of this deal, and you can also enter to win FREE LUNCH FOR A MONTH along with other great prizes from participating Oakland retail businesses.
Enjoy a Meatless Monday option thanks to the Sustainable Pittsburgh Restaurants Program — the Oakland Business Improvement District's way of helping to reduce the impact on the environment.
This event is funded by the Oakland Business Improvement District with additional support provided by Sustainable Pittsburgh