PWSALTDPUS-11-23-16.pdf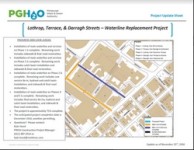 PWSA Waterline Replacement Project Update (Lothrop/Terrace/Darragh) 
To view the Project Update Sheet for the Lothrop/Terrace/Darragh Streets Waterline Replacement Project, please click below. 
This information can also be found at
www.pgh2o.com
under the "Project Info" section of the home page. 
The project is approximately 75% complete. The anticipated project completion date is December 2016, weather permitting. Remaining work includes final service tie-ins, hydrant and catch basin installation, and sidewalk & final road restoration.