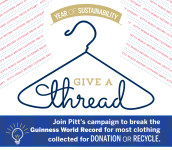 The University of Pittsburgh is striving to make history this coming spring as we introduce the Give a Thread campaign in an attempt to break the Guinness World Record for most clothing collected for the intent of donation or recycle. Large articles (pants, shirts, jackets, suits, dresses, shorts, skirts, etc.) will be collected through the end of February, when the world record count is attempted.
Articles should be clean but can be in any condition. Items that are not suitable for donation, such as torn, stained, or heavily worn items will be recycled by Goodwill of SWPA to create a sustainable filler for insulation. Currently, all regional campuses as well as the City of Pittsburgh, Mayor Peduto's Office, Allegheny County Department of Human Services and the Pittsburgh Zoo and Aquarium are all participating in the Give a Thread campaign.
Clothing will be counted and sorted. Items for recycle (torn, stained or unusable items) will be provided to Goodwill for recycle, which includes shredding for filler material. Clothing in gently used condition will be distributed amongst the following agencies: Thriftsburgh (student run thrift store on the University of Pittsburgh campus, Goodwill of SWPA, Dress for Success Pittsburgh, the University Career Development and Placement Assistance Office, and other organizations as appropriate.
For more info: