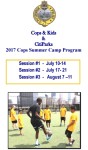 2017_Summer_Camp_application_final_print_pdf.pdf
Pittsburgh Police Youth Programs Unit 
The Cops & Kids Summer Camp represents a unique experience for Pittsburgh area youth to understand and explore all aspects of policing and public safety. 
For one week, campers will experience positive interactions with police officers. The curriculum is designed to enhance your child's knowledge of public safety, as well as, reinforcing positive decision-making. 
The objective is to encourage campers to start early being responsible for their actions.
The goal of Cops & Kids is to help build self esteem, self awareness, and a better understanding what it takes to become a good citizen. 
The Camp Sessions will be held:
July 10-14 – Duquesne University
July 17-21 – CCAC, Allegheny Campus
August 7-11 – Chatham University
See the attached flyer/application for more information.